CHILDREN'S CLIMBING FRAMES
m
2
BALCONIES AND TERRACES
Construction is in full swing
Nové Modřany
Living in Nové Modřany links the strength of the big city and the lightness of the countryside. In a small-scale project in the middle of green space you will discover a perfect place to live for yourself and your family. Do you want more? We will also give you three children's playgrounds with trampolines, an outdoor gym, a coffee shop, a relaxation zone, a car charger, several kilometers of paths in the woods, the Vltava's bends and a direct tram to the center. You will get the best!
A MODERN AND GENEROUS PLACE FOR LIFE
We are building Nové Modřany in one stage and you will move into a neighborhood that is occupied. We will hand over the keys to your apartment at the moment we sweep the last path clean. We enlarged the balconies and terraces, which have wonderful views of the Vltava and Prague, and we also planted a park on the eastern side. Imagine your ideal day. In the morning, you will come out onto your spacious terrace with your morning coffee and you will relax with a wonderful view of the river. In the afternoon, you will go for a walk or a run in the peaceful park. In the evening, your friends will come for a barbeque and you can watch a romantic sunset over Prague. Dream and choose your new apartment!
TRAM STOP, VLTAVA AND WOODS ONLY A FEW STEPS AWAY
Modřany is one of the livelier Prague districts. Run to the Vltava to enjoy the beach in the evening, sit on your bike, try an afternoon trek in Modřany Gully or take your children for a walk to get an ice-cream. Restaurants, leading schools, comprehensive healthcare, administrative services and a direct tram to the center in 20 minutes are also easily available. Welcome to Modřany!

Prices of housing units are listed including 15% VAT rate.

It is necessary to buy a cellar for each apartment for the price of CZK 35,000 / m2 without VAT and a parking space for the price from CZK 360,000 without VAT. Contact your dealer for more information. The information / communications provided here are not a proposal for the conclusion of a contract. The developer reserves the right to make unilateral changes to them. Binding parameters will be the content of mutually signed contractual documentation.
You may also like
| >Building | Number | Floor | Layout | Area Total | Balcony / Terrace | Garden | Price incl. VAT | Status | Detail | |
| --- | --- | --- | --- | --- | --- | --- | --- | --- | --- | --- |
| A | A.4.18 | 4 | 2+kk | 50 m2 | 18 m2 / 0m 2 | 0 m2 | - | Sold | | I am interested in |
| B | B.2.06 | 2 | 2+kk | 54 m2 | 7 m2 / 0m 2 | 0 m2 | - | Sold | | I am interested in |
| C | C.2.06 | 2 | 2+kk | 54 m2 | 7 m2 / 0m 2 | 0 m2 | 6 858 595 CZK | Pre-reservation | | I am interested in |
| C | C.4.22 | 4 | 2+kk | 55 m2 | 9 m2 / 0m 2 | 0 m2 | - | Sold | | I am interested in |
Three children's playgrounds and an outdoor gym
Own park next to the building
Large balconies, terraces and front gardens
Small-scale project built in one stage
Beautiful views of Prague, surrounding woods, confluence of the Berounka and Vltava
Atmosphere of the Vltava, beach and cycle path
News
25.08.2022
Construction is being completed on the 8th floor of building A and we can look forward to a finished showflat soon.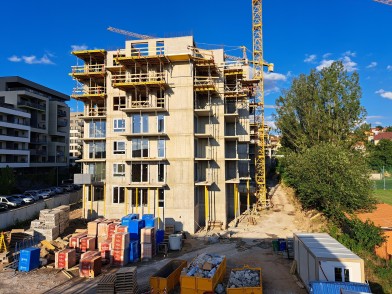 30.07.2022
The construction is being completed on the 7th floor of building A, they are installing windows and preparing a showflat.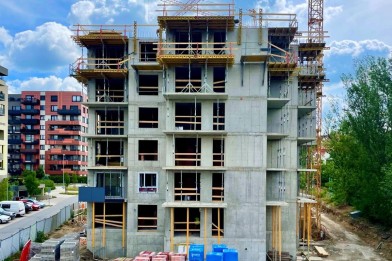 15.06.2022
The construction of the first building is currently completing the 6th floor and the other buildings are growing at the same rate.
Make an appointment
Project specialists
LEXXUS a.s.
Na Poříčí 2090/2
11000, Praha 1
Vojtěch Sochor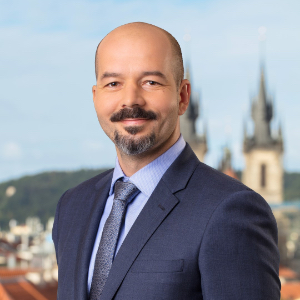 Veronika Ondrová